"It took me four years to paint like Raphael, but a lifetime to paint like a child."
~Pablo Picasso
Welcome to Magic Marker Monday! If you haven't heard about Magic Marker Monday yet, click here and then hurry right back…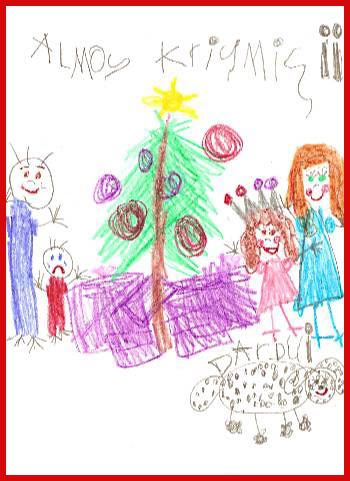 Did you all have a great Thanksgiving? We did, and as you can see, we're moving right along to Christmas — some of us are anyway. If you believe the picture, it's "ALMOS KriSMiS" (almost Christmas) — complete with upside-down exclamation points.
According to this picture it's not going to be a merry one for everyone. If you'll notice, there are only purple presents with pink bows under the tree. And a baby brother that appears to be crying. I'm told it's because he's sad that there are no presents for him. He didn't get any because according to his big sister, he's been "TOO NODDY!!!"
In contrast, our oldest child has apparently been an angelic princess. So much so that in the picture, she seems to have somehow charmed her Dad and I into caving and giving her the Christmas dalmatian puppy that she has been bugging us for since July. She has already named her (yes, we're told that she MUST be a girl dalmatian puppy) "Dardu".
At least she has her vivid imagination to fall back on. Should come in handy in a few weeks when 'Dardu' is a Christmas no show…
What about you? What has your little artist been up to lately?
Want the Magic Marker Monday button code? Click Here!
Find out more about Michelle
Read Michelle's weekly column
Meet Michelle here each Monday for Magic Marker Monday
Questions? Please feel free to email Michelle at childlif[at]gmail[dot]com or come and visit her at In The Life of a Child