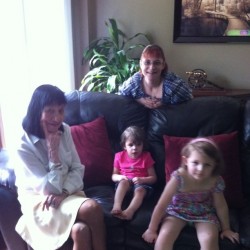 I recently had a visit with my grandmother who was visiting Ontario from British Columbia (to bring you up on Canadian geography, BC is on the west coast and Ontario is practically in the middle of the country) Being the nice granddaughter I am, I drove 5 hours to go see her in Ottawa. Let's just say taking both of my kids on a 5 hour car ride was probably not my most brilliant plan, but we made it through.
This was the first time my grandmother has met Jillian. She has heard her talking in the background though, so I figured she'd know somewhat to expect. We arrived at my uncles house shortly before supper time and I spent some time catching up with my grandmother and cousin (while my uncle cooked. Bonus of driving, I got out of cooking duties!)
As we sat down to dinner, I had brought in Jillian's chair so she could sit at the table with us (ya know since "W" sitting isn't all that safe on chairs and all). Jillian was distracted by books (my grandmother brought a ton for them). So, I called for Jillian to come to the table. My grandmother kinda stared at me and I repeated my request to Jillian. To which my grandmother says "Wow! You don't baby her at all, do you?!"
Now our family is  lucky. Jillian can ambulate by herself and has fabulous vocabulary skills. Jillian answered me and began crawling to the kitchen. I wasn't really sure how to reply to my grandmother. I thought "well… no. I don't baby her but then again, that's just not a Jillian thing, I never babied Lauren either" So, as I was trying to find words to say, I just said "no. I don't baby her. I want her to gain independence and self confidence. She couldn't do that if I were doing everything for her."
Obviously my story would be a LOT different if Jillian was non-ambulatory and non-verbal. I was also grew up in a household where no one EVER used baby talk. I refused to do any "cutesy" talk when the girls were smaller. And I also used to cringe when other people would talk like that to my children.
So? Let me know… Do you "baby" your special needs kids?? Or ever had a comment like that? Looking forward to your thoughts!