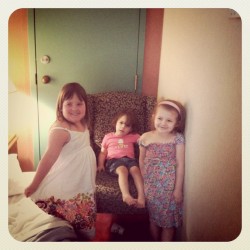 We aren't talking about major promises here. If we were, I would work as hard as I could to stay true to my word. I've blogged a lot about my friend Nena here in the past. And the last post I talked about her in, I had said that I would try not to talk about her so much, but this is a story worth repeating. (If you need a refresher course, check out THIS post and THIS post)
Shortly after Glenn died, Nena's family were supposed to leave December 30 for Walt Disney World in Florida. This trip was funded through the Make-A-Wish foundation. Sadly, Glenn passed away before their trip to Florida. The kicker? They had already told Grace. She was heartbroken. I mean, he died so quickly and wasn't sick before that everything looked good for the wish trip.
Unfortunately (but understandably) if a child dies before their wish is granted it's null and void. Obviously a huge heart breaker for a 4 year old. Grace's Dad decided to take Nena, Grace and Kara (Glenn's old teacher and close family friend) this past week so Grace could still get to Disney World.
Knowing Disney (only somewhat), I knew their days were probably jam packed. I  mean realistically this could be a once in a life time thing. Grace had a blast doing everything! Breakfast with the cast, Bibbity Bobbity Boo Boutique, rides, etc.
Unfortunately for Nena (completely fortunately for me), their plane wasn't leaving Toronto due to fog in Newfoundland. They were put up in a hotel not far from me and Nena had texted me to see if I wanted to meet her somewhere. After asking Grace all about her trip, I asked her what her most favourite part of it all was. Her response? Nearly crushed me. They went to Give Kids the World to place a star there in memory of Glenn. That's all Grace talked about. Not that I'm surprised, but she's still grieving the loss of her brother. I think this makes her feel a little bit more connected to him.
When I flew to Newfoundland in November, Grace had instantly become my friend. She had asked me if I had any kids and I told her that I did. She wanted to see pictures, so I set her up with them. She noticed a picture of  Jillian in her wheelchair and said "hey. That's like Glenn's chair" (they had the same make/model of chairs) and she asked why I didn't bring my girls. I explained they were home with their daddy. She said "oh. I just love special girls".
Since their flight wasn't leaving until 7:35 tonight, I drove back to the hotel room with the girls. Grace, Lauren and Jillian got along SO well. Both of my girls cried when we had to leave. Hopefully, we'll be able to see each other more often.