"It took me four years to paint like Raphael, but a lifetime to paint like a child."
~Pablo Picasso
Welcome to Magic Marker Monday! If you haven't heard about Magic Marker Monday yet, click here and then hurry right back…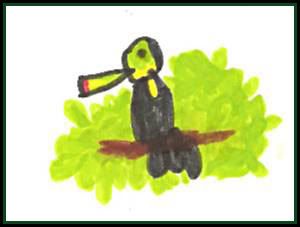 This little guy is my favorite doodle for the week. It has been so fun to watch my daughter's confidence growing in her ability to draw — I actually found her copying this picture from a photograph in a book and she was so proud of her finished drawing!
… And so is her mom 😀
What about you? What is your favorite find amongst your little artist's doodles this week?
Want the Magic Marker Monday button code? Click Here!
Find out more about Michelle
Read Michelle's weekly column
Meet Michelle here each Monday for Magic Marker Monday
Questions? Please feel free to email Michelle at childlif[at]gmail[dot]com or come and visit her at In The Life of a Child