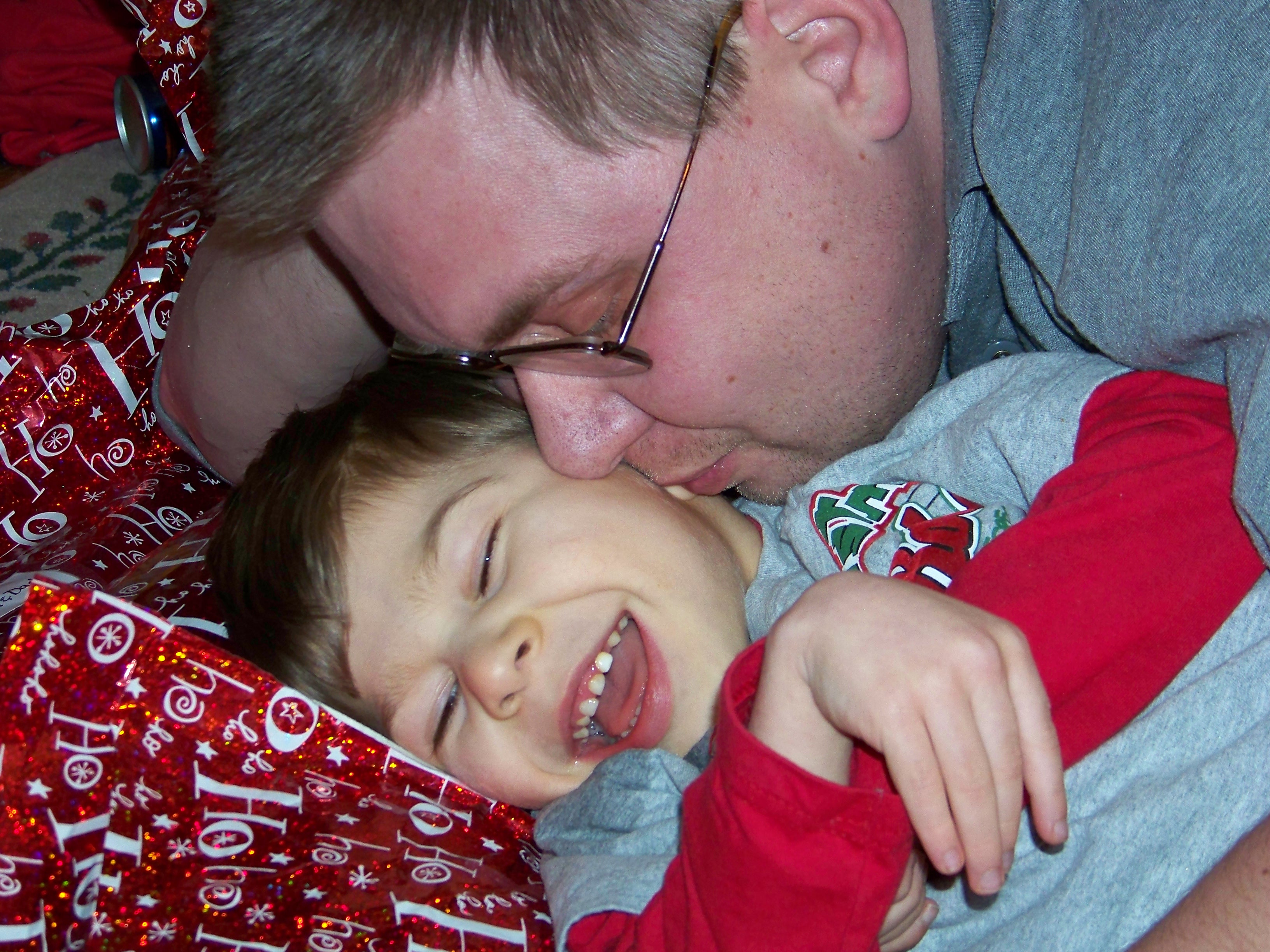 Two peas in a pod may sound like twins but I swear if you looked at my husband and my son you'd see that they were cut from the same mold. They look so much a like it's just unreal! I appreciate my husband and all that he does…even tonight when I wanted to come up with something whitty for this blog, he was trying to help…whit was just not there tonight! He works and supports us as a family. He gets up in the morning with our son & fixes and feeds him breakfast, because he knows how much I am NOT a morning person. I try to sleep through it, it doesn't always work as the two of them are singing (badly i might add) to whatever disney show is on at that moment. Sometimes I lay in bed and just listen to them and laugh…after all it's sweet music to hear.
In the morning, my husband comes in and collects our son. Our son's face just lights up when he hears his dad coming to get him. He kicks & "runs" in just anticipation of his 'daddy time'. They really do sound like their having fun. My husband fixes the standard Applesauce with some cereal (rice or multigrain) in it and gets the medication ready & crushes it to give with the first bite. It's clear that my son loves his dad. He gets so excited when he comes home before bed at night. My husband works retail, so we never know from one week to the next when exactly he'll get to see our son. So mornings are very special. Sometimes when he's off for the day I may have an opportunity to leave him home with his dad while I go to my mom's house to take care of her or take her to doctor's appointments. This is their "boys days"  there's rootbeer in glass bottles (IBC)in the house and they sit on the couch and watch Disney movies or channel. I've caught them playing the  WII too sometimes. Sometimes there are evenings that my husband is off and I can get a night out (my piece of respit only happens 1 or 2 every 3-4 months i swear). On these nights, sometimes our son doesn't want to go to sleep…he's having so much fun with his dad. When I come home I find the two of them asleep on the couch. 
Initially when we had our son, it didn't come easy to my husband. As a NICU nurse told me, dads & grandpas don't do well in the NICU. They're fixers, they want to fix and move on…they can't fix these babies. So it's hard for them to sit crib side and wait and see what happens. I can remember the first day I got to see our son, the day after he was born, at our children's hospital, on a day pass…I looked at my husband and said we've always had to work for what we wanted, why would this be any different. I had already accepted our son's differences…it would be a while for him to accept it. But he has fully accepted our son, loves him with all his being and we love him for all that he does for us on a daily basis to make us a family.